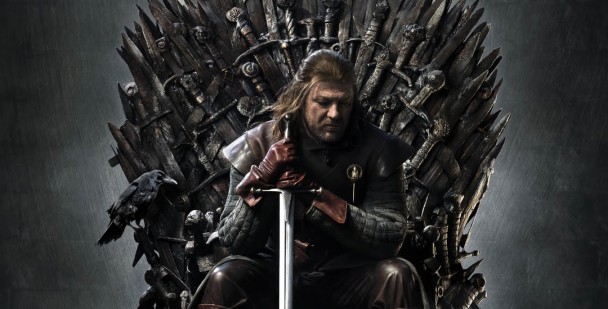 What makes Game of Thrones a great show? The characters. The show is all about the characters: what they do, why they do it and how they do it. Every decision a character makes it done for a reason. If you are looking for a show about good and evil, look elsewhere. If you are looking for a story about real people, Game of Thrones is the show to watch.
The show takes a fresh take on the highly popular serial episode format. It never holds true to usual story-telling conventions: start with some exposition, build up to a climax, then come to a neat resolution. Game of thrones rarely has episode climaxes or resolutions. If anything, the show feels like a constant stream of the general happenings in the continent of Westeros.
At times the show feels much more like a documentary than a fantasy story. It's quite refreshing to see a story take it's audience so seriously. Most fantasy stories use obvious character archetypes to help drive a plot forward, but Game of Thrones let's the viewer make their own decisions about the characters. It feels more like the writers are saying, "Here's a character. We're going to have him do some things, and you can make up your own mind about him. He won't do anything simply because he's the good guy or the bad guy. He will do everything because it makes sense to him personally."
Game of Thrones has no standard episode setup, no beginning exposition and no episode climaxes. Now if I didn't know better, this would sound like an unappealing notion, right? Just lot's of talking and no action? Well that's where you're wrong!
The show often feels extremely visceral in its storytelling methods. A character might rip a man's throat out one second, then start having sex with someone else the next. (Don't worry, it's very rare for a character to have sex with the person who's throat he just ripped out)
Nobody feels safe from death and everybody seems to know it. When watching/reading The Lord of the Rings, I never once thought Aragorn would die. From the moment you meet him as Strider it's clear as day that he's the most badass Ranger in all of Middle Earth, NOTHING can touch this guy, and nothing ever does.
Eddard Stark, played by Sean Bean, feels the same way when you first meet him in Game of Thrones. He's the tough, stoic Lord of the North. He helps to protect all the South from the wildlings in the North. Nothing seems to be able to hurt Eddard, he's cool and lawful to a fault. That of course is only the initial impression because in the first episode one of the main characters gets pushed from the top of a tower. So.. yeah, maybe Eddard isn't as safe as I though.
The writers hold all the keys and they seem to quite enjoy pulling a name out of a hat, if it happens to be a character that everyone loves, it doesn't matter because thats life. And in many ways Game of Thrones DOES feel like real life. As stated before, the show feels like a documentary about the constant goings-on in Westeros, and as in any documentary, every character is completely grounded in reality. Just remember that the reality is within the realm of the story, I'm not saying dragons or giants exist, but in the story it feels completely practical that they would.
Practically all the characters are perfectly acted in Game of Thrones. Sean Bean brings great gravitas to Eddard Stark while Peter Dinklage counters him with quick-witts and some greatly needed humor portraying Tyrion Lannister. Even though the show is meant to be an ensemble cast, these two actors often steal the show. I remember feeling a bit sad when Tyrion didn't show up for an entire episode. Instead, I found myself having to deal with John Snow and Sansa Stark's whiny self-entitled attitudes (played well enough by Kit Harington and Sophie Turner respectively). Unfortunately these two actors didn't have much choice with their characters, George R.R. Martin wrote them as such in the book series, so they at least play their whiny characters exactly as they are in the books.
The other actors all do a great job in the show, but they are often out-shined by the amazing jobs of Eddard and Tyrion. The one smaller character that showed great promise for future seasons is Eddard Stark's son, Robb Stark (played by Richard Madden). He barely plays a role on the show until the last two episodes where he takes the main stage and holds it well.
The one problem Game of Thrones really exhibits is pacing, but it's quite relative. I personally didn't like Daenerys's story very much. Any time they switched to her own story I was left wanting to see what was going on back with Eddard or someone else back in Westeros. Her scenes feel less like a constant story/documentary and more like a slow trickling stream story with bits and pieces of interesting samples hinting at something soon to come. Don't get me wrong, something does happen eventually, and that something makes her character seem all the more promising for season two, but it felt like far too much build up at times where they could have been focusing on other characters. Perhaps the writers thought we might forget about Daenerys, so they felt the need to inject her into each episode, but she would have been better off with shorter, more tightly-written scenes.
Go watch Game of Thrones if you want to see some great unpredictable storytelling.
If I had to give Season 1 of Game of Thrones a rating, I'd give it TWO HIGH FIVES!
A bit of back story:
Game of Thrones is an HBO series based on the first book in George R. R. Martin's A Song of Ice and Fire book series.
The series takes place in a world akin to medieval England except with some dragons, magic and zombies. (you can argue they are called wights all you want but they are still zombies!) For the most part the world is very much grounded in reality, and when they finally show something close to magic it's never pretty, never cute, and almost always comes with a grim price. But magic is most definitely NOT the point of Game of Thrones. If anything, the series is about the characters.