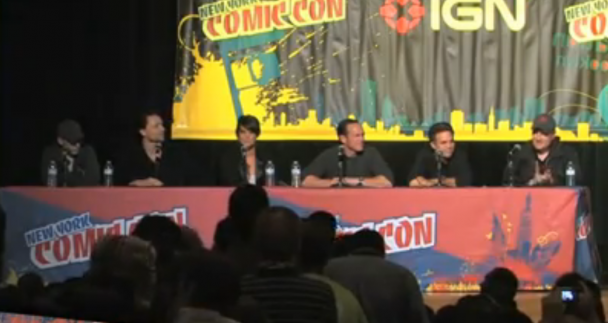 It was pretty cool seeing many of The Avengers cast at New York Comic Con. It might have been cooler if Sam Jackson or Joss Whedon were there too, but the crew that came instead was solid and entertaining.
Panels on Pages has filmed and uploaded the whole 45 minute affair for the world to watch!
Check out the whole panel below to see and hear a few clues on what is to come for The Avengers
Luckily we got in line early enough to get prime seats for the panel. But this brings up a new topic which is getting more and more popular these days, the New York Comic Con getting bigger and bigger.
Just a few years ago there were practically no lines to get into most of the major panels at NYCC, but this year there are more lines, more panels and alot more space being used for the floor booths.
We will be posting plenty of pictures from NYCC later this week, so stay tuned to see what the whole comic con looked like!
Source: (Panels on Pages)